Who are Leadnow's Courage to Lead Champions?

Leadnow's Courage to Lead Champions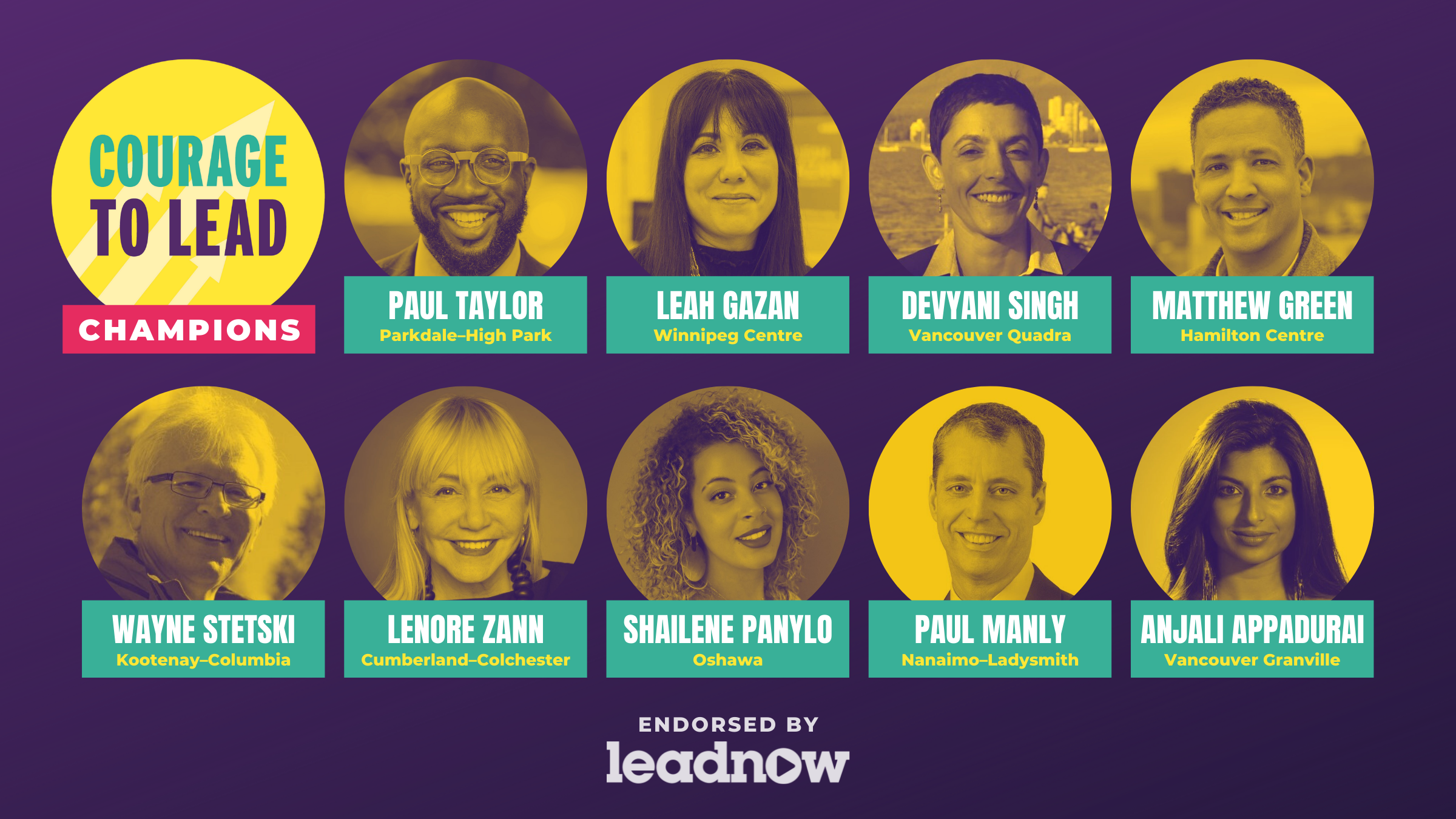 Our best shot at tackling the intersecting crises we're facing is if we can elect courageous leaders
— who not only recognize the scale of these issues, but will rise up to respond with emergency-level action. Having the courage to tackle these crises means championing a Just Transition and a Basic Income on the campaign trail, in the House of Commons, and even challenging one's party to be better and more ambitious. That's why we've endorsed these 9 champions with the Courage to Lead.
To help get them elected, you can
join one or more of our call parties here
. And check out their campaign pages below.
(URL:

https://act.leadnow.ca/make_calls/

)

Anjali Appadurai, Vancouver Granville (NDP)
With more than a decade of climate organizing under her belt in spaces like the UN and with organizations like Sierra Club BC, Anjali is a fierce advocate for environmental, social, and economic justice, who works with a deep belief that our crises are intersectional and connected.
We need a courageous champion like Anjali to speak truth to power and bring both vision and action to deliver on a just and climate-safe future for all. Let's send her to Ottawa on September 20!
anjaliappadurai.com/
Leah Gazan, Winnipeg Centre (NDP)
Since being elected in 2019, Leah Gazan has worked tirelessly with other elected representatives, frontline organizations, grassroots leaders, volunteer groups and community members to fight for climate justice, social justice, economic justice and human rights for all.
She has been leading a cross-partisan national campaign for a Basic Income and introduced Motion 46 to support this effort. Let's make sure this Courage To Lead Champion gets to continue her work as MP after September 20th.
reelectleahgazan.ca/
Matthew Green, Hamilton Centre (NDP)
Matthew Green served Hamilton for years as a dedicated councillor. To get to the root of the problems he helped solve everyday, he decided to run as an MP in 2019.
Since joining the House of Commons, he's become a powerful voice for action on climate, economic, and social justice in the pursuit of building a more caring and compassionate Canada.
Matthew Green has proven that he has the Courage to Lead to deliver a just transition from fossil fuels and a guaranteed liveable income. Let's help get him re-elected on Sept 20.
matthewgreen.ca/
Paul Manly, Nanaimo-Ladysmith (Green Party)
A researcher, filmmaker, and social justice advocate, Paul Manly has been a courageous voice for economic and climate justice in parliament since his election in 2019.
As an MP, he's introduced several motions calling for stronger action on climate change and economic inequality - including M90 to ban fracking, and M65 for a guaranteed liveable income.
Paul Manly's the kind of progressive leader we need to champion a just and climate-safe future for all of us, and we can't wait to get him re-elected.
reelectpaulmanly.ca/
Shailene Panylo, Oshawa (NDP)
Shailene Panylo is a community builder and proud lifelong resident of Oshawa – who knows from personal experience that people in Canada benefit when we work to remove barriers to accessibility and invest in communities.
She is a bold leader ready to deliver a safe and just future for all, and we're proud to support her as a Courage To Lead Champion.
oshawa.ndp.ca/
Devyani Singh, Vancouver Quadra (Green Party)
As a climate scientist, Dr. Devyani Singh knows firsthand how urgently we need bold action to build a liveable and climate-safe future. With a deep-rooted belief that for too long, politicians have ignored the science pressing for strong climate action, she's running to bring that science straight to the heart of parliament.
Dr. Singh will be a tireless voice and actor to deliver a just and climate-safe future for all, and we're proud to endorse her as one of our Courage to Lead champions.
devyanisingh.com/
Wayne Stetski, Kootenay-Columbia (NDP)
Wayne Steski started his career as a naturalist and worked for 35 years as regional and provincial parks manager. As an MP from 2015-2019, he introduced a bill to expand protection for bodies of water and was Vice-Chair of the House of Commons Environment Committee.
As Wayne put it, "We need an entirely different paradigm and approach to the environment, making decisions with the real understanding that we have finite resources and a planet that needs our support."
With his experience and keen understanding of the big shifts we need to ensure a just and climate-safe future, we're proud to help this Courage to Lead Champion get back to Ottawa.
kootenaycolumbiandp.ca/
Paul Taylor, Parkdale-High Park (NDP)
Paul Taylor is a community leader, anti-poverty activist, and the Executive Director of FoodShare Toronto. He's been leading on social justice in his community for years, and is ready to take his passion to work nationally.
Paul understands how badly we need a government that is ready to work for everyone. He is the kind of courageous leader we need, and we're so excited to help send him to Ottawa.
paultaylorto.com/
Lenore Zann, Cumberland Colchester (Liberal)
Lenore Zann's a seasoned public servant who's fiercely championed environmental, economic, and gender justice at both the provincial and federal levels.
Since being elected to Parliament in 2019 she introduced a Private Member's Bill, that passed, to address environmental racism and has fought for basic income, including supporting Leah Gazan's Motion 46. Lenore's got the Courage to Lead - let's get her re-elected on Sept 20.
lenorezann.liberal.ca/